~~~~~~~~~~~~~~
Fly Fisherman's Guide to Atlantic Baitfish & Other Food Sources
Frank Amato Publications, 1995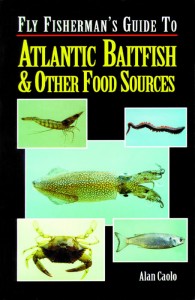 About this title –
This little book highlights 40 important inshore prey species found along the Atlantic seaboard. Clear descriptions of habitat, range, and behavior of crabs, baitfish, shrimp, worms and more are accompanied by stunning close-up photography, from multiple shooting angles. Reliable, well-known fly patterns are suggested with guidance for size, color and presentation . . . a great reference book for fly tyers and anglers alike.
Available through:
Amazon: www.amazon.com
The Angling Bookstore: www.theanglingbookstore.com
Phone: (970-349-2752)
~~~~~~~~~~~~~~
Sight-Fishing for Striped Bass
Frank Amato Publications, 2001
About this title – (cover art by Vaughn Cochran www.blackflyoutfitter.com)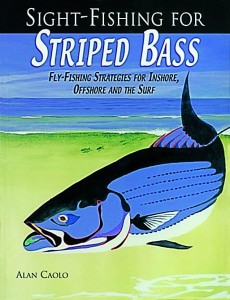 Sight-Fishing for Striped Bass is a comprehensive guide to hunting stripers on the flats in clear, thin water. This clearly-written book, along with its photography and sketches, captures the essence of this addictive striped bass fishing. Everything is covered – striper behavior, flats environments, prey, flies, strategy, presentations, tackle . . . and more!
From the back cover:
"Sight-Fishing for Striped Bass by Alan Caolo will soon become the ultimate reference book on the subject. That he understands and knows this mainstream game fish is immediately evident. More importantly he understands the detail and nuances of sight-fishing light years beyond anything I have ever read on the subject and is able to articulate the information clearly."    –   Sandy Moret
"Alan Caolo deserves a Ph.D. in striper fishing for his new book, Sight-Fishing for Striped Bass. It is the definitive account on the subject. Sight-fishing was once the domain of tropical saltwater anglers, but Caolo shows us that going visual in cold water brings the sport of fly fishing for striped bass to a higher level."  –  Jeffrey Cardenas
"There are a number of excellent books on fly-fishing for striped bass, and this latest work by Alan Caolo will certainly take its place among them . . . While stripers are the object of scrutiny, regardless of the species you set your sights on, anyone interested in sight-fishing the shallows will be enlightened by this book." – Nick Curcione
Available through:
Amazon: www.amazon.com
Amato Publications: www.amatobooks.com
The Angling Bookstore:  www.theanglingbookstore.com
Phone: (970-349-2752)
Some Favorite Books
A half-dozen titles that have shaped my angling perspective:
Anglers and Muscleheads – Captain Tom Gifford, E.P. Dutton & Co., 1960
The Fisherman's World – Charles F. Waterman, Random House, 1972
Fishing the Flats – Mark Sosin and Lefty Kreh, Nick Lyons Books, 1983
Tarpon Quest – John N. Cole, Lyons & Burford, Publishers, 1991
Marquesa, A Time & Place With Fish – Jeffrey Cardenas, Meadow Run Press, 1995
Bush Pilot Angler ~ A Memoir – Lee Wulff, Down East Books, 2000